Coz Orphanides, lead vocals, flute and percussion: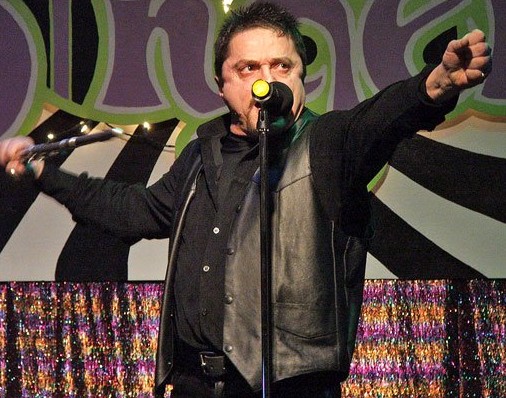 Coz is an experienced lead singer with an amazing knack for sounding like dozens of famous singers, while maintaining a sound of his own. With a very large range, he has sung songs as high as the golden voiced Jon Anderson of Yes, as low as the legendary country star, Johnny Cash, and everything in between.Extremely versatile at his trade, his voice can sound as soft as a "pillow of winds" or as gritty as a long dirt road.
No style of singing is too challenging for Coz, who can sing pop, R&B, rock, jazz, country and even the contrasting styles of opera or rap. Be it a soft ballad or harsh screaming heavy metal, Coz gives it his own special stamp that sells it to any audience as a professional rendition of any song in his repertoire.
His previous bands include Dark Sun, Cozmik Assets, Exit Strategy, and the Genesis
tribute band Afterglow. Along with being called "the man of a 1,000 voices', he has also been called "the man of 1,000 faces", and brings some of his stage acting skill in to play for some of the unusual plot lines found in progressive rock classics.
A lifetime progressive rock fan, he is perfectly suited to entertain fans of the genre with his highly-nuanced versions of legendary progressive rock band songs. If you were to close your eyes at a concert Coz sings at, you might think you were hearing several different singers. He is all the singers you love, rolled into one!
Coz is very excited to be the front man for Downing Grey.
Contact: coz [AT] downinggreymusic [DOT] com
(email address above written to avoid spam robots)