Bob Larkin – Sound and Light Engineer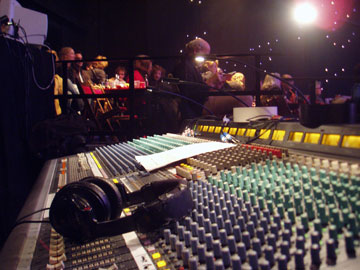 As a musician (guitar, voice, clarinet, bugle), Bob Larkin played in rock bands, the drum and bugle corps, and the Navy, where he toured the carrier fleet in the Pacific Ocean.
After working as part of the road crew for Peter Gabriel's So, Genesis's Invisible Touch, Anderson, Bruford, Wakeman, & Howe (ABWH), and Pink Floyd, Bob transitioned into sound and light engineering.  Working with national acts such as The Drifters, Joey Dee & The Starlighters, Peter Frampton, and Robert Cray, and tribute acts such as Frostbit Blue, Hotel California, Fresh Horses, Shania's Twin, Over The Garden Wall, Beatlemania Now, Toys in the Attic, and Blind Man's Sun, Bob knows what it takes to produce a great stage show. Hearing the Genesis Live album and seeing ELP live as a young teenager ignited Bob's lifelong passion for progressive rock music, and he has been with Downing Grey since its inception.
Contact: soundandlights [AT] downinggreymusic [DOT] com
(email address written to avoid spam robots)